• award • blog • cleaning • cooking • disinfectant • food • home cleaning • kitchen • mister • press • Safety • spray

With our increased awareness and concern for keeping our homes clean and disinfected, the Prepara Simply Mist Sprayer is the ideal spray bottle for cleaning and disinfecting tables, countertops and other surfaces. Designed to spray a wide-spread mist, the Prepara Simply Mist Sprayer is perfect for using cleaning solutions to kill bacteria, viruses and germs. The Simply Mist features a high-quality atomizer which creates a fine mist for better and more comprehensive dispersion.  It also has the ability to have a controlled stream with a longer pull of the trigger. Just add any store-bought or homemade cleaning solution (diluted if...
---
When it comes to cooking in your kitchen, you may focus more on how your dishes look and taste, but that isn't the most important thing. Cooking and baking can actually cause some serious problems if you don't take proper precautions. Here are some of the basics of kitchen safety you should regularly be reviewing. Wash Your Hands You may hear a lot about washing your hands, but that's for a good reason. You don't want to contaminate your food with any bacteria or dirt that is already on your hands, and you don't want to cross-contaminate your food when...
---
• Cooking tips • Safety • Stove-top
Most homeowners cook every day. While today's ovens and stovetops are safe, caution must be used when cooking. Keeping your kitchen free of fire hazards is extremely important. Follow these five easy safety tips to keep your family safe. 1. Cook with Care Make sure your stove and oven hood are safely and correctly installed. Tie back long hair and tuck in loose clothing. Wear non-slip footwear. Make sure to use protective hot mitts when moving pots and pans. Take extra care not to splash hot oil; using a splatter guard may help. Turn pot handles inward so that they...
---
• appliances • Safety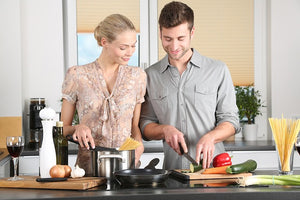 The kitchen is among the most used rooms in the house. It is probably the one that has the highest number of electrical appliances ranging from refrigerators and cookers to mixers and kettles. The versatility of the kitchen exposes it to various risks that can cause severe damage to your property and lead to losses. Therefore, it is critical to take measures in place to prevent kitchen disasters and protect your hard-earned investments. Here are some of the top tips that you can follow. Be Aware of Your Sink If you have ever had a plumbing emergency, you know how...
---
• Carbon Monoxide • cooking • healthy living • Safety
Carbon monoxide kills about 200 people every year and injures another 5,000. Without a detector, you will never know it's there. Let's look at reasons why you must have a carbon monoxide detector in your kitchen. 1. Colorless, odorless, tasteless and toxic You can't see it, smell it, taste it, hear it or feel it, but if it builds up in your home, it can injure or kill you. A carbon monoxide sensor can detect this deadly gas and alert you to its presence while the level is still low enough not to be a danger to you. 2. Produced...