I'm going to say it, I love Brussels sprouts! They are so versatile and a great option for a holiday side dish. Sometimes after eating hardy meat and sides you just want a delicious and refreshing salad to complete your meal and this is one of our family favorites to do just that. Kid and adult approved, everyone will enjoy this sweet and savory Holiday Brussels Sprout Salad.   Salad Ingredients: 1 lb. or 20-24 Brussels sprouts – halved and chopped thin ½ cup dried cranberries ¼ cup sunflower seeds 1 cup roasted, unsalted cashews 1 Honey Crisp apple –...
---
  Craving a bit of sweet and savory in the morning? If you're anything like me then you'll want options. Pancakes are the perfect canvas for breakfast since they can be made into a sweet or savory meal. Simply place the pancakes on the Prepara Multi Taco Holder and start adding your favorite fillings and toppings, like stuffing a taco. You can't go wrong whether feeding children or adults, and if you're a little daring, try mixing the sweet and savory fillings together. Have fun with it! Sweet Pancake Fillings Thoroughly wash and cut fruit such as berries in the...
---
Those deliciously sweet cherries are finally in season! Sweet yet savory, this marinade is so tasty and will up your grilled chicken game this 4th of July weekend. This dish can be served with corn, potato salad, broccoli slaw and so much more!   Ingredients: 2 lbs. chicken thighs 1 lb. fresh sweet cherries, pitted with Prepara Cherry Pitter ¼ cup Meyer Lemon, squeezed with the Prepara 2-in-1 Juicer 1 ½ tbsp. balsamic vinegar 1 medium or ¼ cup shallots, sliced 1 tbsp. fresh basil ¼ tsp. salt and more to taste Black pepper, to taste   Directions: In a...
---
May is rapidly approaching and with it comes again the opportunity to celebrate two of the most loved things on the planet - Mexican cuisine and our moms. Treat mom to a great lunch this year with these great recipes for a jamon con manchego torta (that's Spanish for ham and cheese sammy, but an extra tasty one) and strawberry basil margarita. Muy delicioso! Mother's Day Jamon Serrano, Manchego and Fig Jam Baguette Ingredients: Jamon SerranoManchego CheeseFig JamArugulaFrench BaguettePickled Serrano Peppers, optional Directions: Cut French baguette to desired length, then cut each piece lengthwise – do not cut all the...
---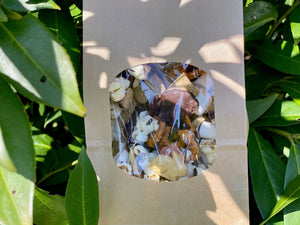 Directions: ½ cup corn kernels, Catamount Corn Popper by Prepara 1 tsp olive oil, optional Butter, optional Salt for taste 2 ½ cups mini pretzels 1 ½ cup mini marshmallows 2 cups frosted wheat squares 2 cups chocolate morsels, melted (Catamount Butter Warmer) 2 ½ cups Annie's Bunny Graham Crackers Neapolitan   Ingredients: Fill bottom of the Catamount Corn Popper with ½ cup of kernels. Add a teaspoon of oil if desired but not necessary. Place butter melting lid on top and add a pat of butter if desired. Place in microwave on high for 3-5 min. Cooking times may...