With the advent of theatrical releases going straight to streaming, there's been no better time to gather the family and have movie night. Aside from dedicated family time, what makes it special is the setup. The first thing to do is find a movie everyone can agree on, but the next step is just as important: snacks. Typically, some combo of popcorn, candy, and cookies. Then, settle in, park it on the couch or in a comfortable chair, wrap up in cozy blanket, and watch the show.   If you're looking to make your family movie night into a running tradition,...
---
By: Annie Rosario   Treat that special someone to an easy homemade treat this Valentine's Day! Chocolate covered strawberries are so delicious and pairs perfectly with a nice glass of champagne to celebrate the day of love.   Ingredients: 12-18 large strawberries 2 tsp vegetable oil 12 ounces semi-sweet chocolate morsels   Directions: Wash and dry strawberries. Leave stem/leaves on. Place parchment paper on a baking sheet and set aside. In the Prepara Butter Warmer, melt chocolate on medium/low heat with vegetable oil and stir with spatula. Once fully melted, remove warmer from heat and turn off stove. Dip each...
---
By: Annie Rosario Perfectly creamy, crunchy and packed with flavor, these mini red potato skins will be a touchdown for Super Bowl Sunday! Ingredients: 12 mini red potatoes 1 tablespoon sour cream ¾ tsp olive oil, plus more for drizzling ¼ cup shredded cheddar cheese Salt and pepper, to taste 4 strips of bacon, crumbled 1 tablespoon Green Onions, chopped   Directions: Preheat oven to 400 degrees. Cut potatoes lengthwise in half. Place them on a backing sheet and drizzle with olive oil, salt and pepper. Let Potatoes cook for 20 minutes or until fork tender. While the potatoes are...
---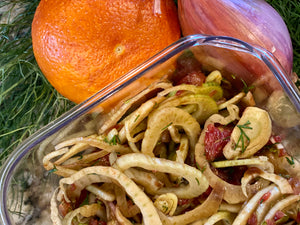 By: Annie Rosario   This unique salad will not disappoint as the sweetness of the blood orange with the refreshing taste of the fennel are quite the combination. The ingredients make for a perfect and refreshing winter salad.   Ingredients:   2 medium Fennels, sliced thin 1 tablespoon Shallot, sliced thin and diced 2 Blood Oranges, peeled, divided and cut in half 1/4 cup Dill, chopped 2 tablespoons Balsamic Vinegar 2 tablespoons Extra Virgin Olive Oil Salt, to taste Black Pepper, to taste 1/2 cup roasted Hazelnuts, roughly chopped (optional)   Directions:   With a knife or a mandoline slicer...
---
By: Annie Rosario   Ring in the New Year with a cocktail full of good luck and high spirits. This beverage is packed with fruits, spice and herbs to ring in the New Year right. A bit of pomegranate for abundance, some orange for luck, rosemary for blessings, and plenty of spirits!  Check out this tasty recipe below: Ingredients: Fresh Produce Needed: 1 Pomegranate 1 Orange Rosemary   Infused Liquor Ingredients: 1/4 cup pomegranates, muddled Rosemary, one sprig Vodka, fill into chamber of Prepara Tastemaker Infuser   Mixture: 1/2 oz. Cointreau 1 ½ oz. Pomegranate Vodka 1 oz. Cranberry Juice...